The Spanish region of Catalonia offers a rich tapestry of culture, history, and natural beauty across its four provinces of Barcelona, Girona, Tarragona, and Lleida. Barcelona, the region's vibrant capital, is a world-renowned hub of art, architecture, and gastronomy. From the awe-inspiring Sagrada Familia and whimsical Park Güell to the bustling markets of La Boqueria, the city is a treasure trove of unique attractions.
Beyond the urban allure, Catalonia offers a mesmerising blend of landscapes. The rugged Pyrenees Mountains stretching through Girona and Lleida beckon hikers and skiers, Tarragona's Roman UNESCO World Heritage Sites invite history buffs, and the Costa Brava's pristine beaches and charming coastal towns provide a relaxing seaside escape. For wine enthusiasts, Catalonia's vineyards and wineries—particularly in the Penedès and Priorat regions—offer tantalising tastings of regional vintages.
One of the ways to experience this magical corner of the world is by embarking on the Grand Tour of Catalonia, which guides you through the highlights of each of the four regions. From historic museums to breathtaking landscapes, and from architectural feats to some of the finest food and wine experiences worldwide (with Catalonia being named the World Region of Gastronomy 2025), there's no shortage of things to do and see in Catalonia.
Along your tour, don't miss the chance to explore ancient monasteries, castles, churches, and charming medieval towns. Catalonia is a land where history, culture, and nature converge, promising all travellers a journey full of journeys.
Find featured hotels and activities in Catalonia below, or explore more of Catalonia.
Explore Hotels in Catalonia
Looking for accommodation in Catalonia? Check out our hotel recommendations available on Travala.com below!
📍 Barcelona, Spain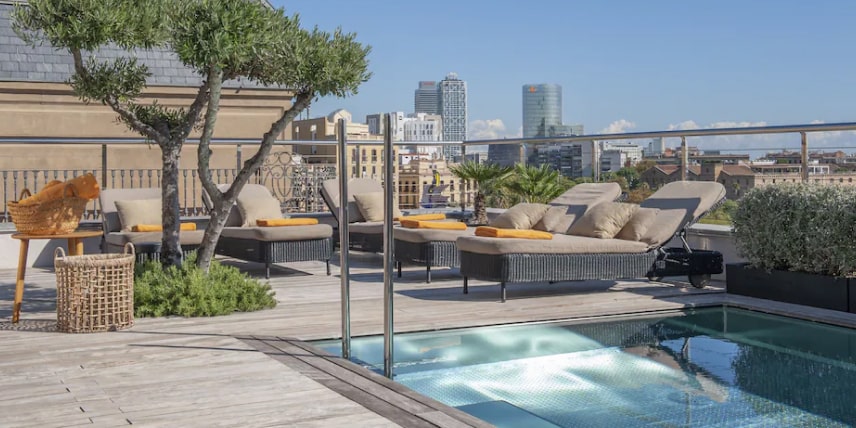 Unwind in Style with Panoramic Port Vell Vistas
Discover the allure of Serras Barcelona, nestled in the heart of the vibrant Gothic Quarter. This boutique hotel offers breathtaking views of the Mediterranean, Michelin-starred dining at Restaurant Informal, and personalised concierge services. Immerse yourself in Barcelona's rich culture and explore its iconic landmarks, all just steps away from this exquisite urban retreat.
📍 Girona, Spain
A Storybook Heritage Escape in Girona's Centre
Immerse yourself in the rich history of Girona at Hotel Museu Llegendes de Girona, a captivating establishment located within the medieval walls of the city. This enchanting hotel offers a journey through time with its meticulously curated museum showcasing centuries-old artefacts, while also providing modern comforts like a charming courtyard and exceptional Catalan cuisine.
📍 Tarragona, Spain
Tranquility at Tarragona's Historic Waterfront
Elegance and comfort converge at H10 Imperial Tarraco, a seaside oasis of historic grandeur. Overlooking the Mediterranean Sea, this hotel offers guests a tranquil retreat with its lush gardens, inviting pool area, and a rooftop terrace boasting breathtaking views. With a prime location in the heart of Tarragona, guests can easily explore the city's Roman heritage, vibrant culture, and exquisite dining options.
📍 Lleida, Spain
Experience Authentic Catalan Charm in Lleida
Built in a restored 17th-century monastery, Parador de Lleida invites you to a truly unique experience. Located atop a hill overlooking the city of Lleida, this hotel offers panoramic views of the surrounding countryside, a serene courtyard garden, and delicious regional cuisine. With its rich history and tranquil ambiance, it's the ideal destination for travellers seeking a peaceful retreat while still being close to the vibrant cultural attractions of Lleida.
📍 Vilafranca del Penedès, Spain
Discover Wine Country Bliss in Penedès
Set amidst the vineyards of the Penedès wine region, this unique hotel offers wine lovers a chance to indulge in exquisite Cava tastings, relax in beautifully designed rooms with vineyard views, and savour Mediterranean cuisine at its finest. With its prime location for wine enthusiasts and breathtaking landscapes, Mastinell Cava & Boutique Hotel promises an unforgettable escape in the heart of Catalonia's wine country.
📍 Peralada, Spain
Sip, Swing & Spa in Style at Luxury Golf Retreat
Nestled in the picturesque Empordà region of Catalonia, Hotel Peralada Wine Spa & Golf offers a unique blend of recreation and relaxation with its world-class golf course, rejuvenating spa treatments, and proximity to the renowned Peralada Castle and its wine cellars. Situated amidst sprawling vineyards and lush gardens, the hotel is an idyllic destination for wine enthusiasts, golf aficionados, and those seeking a tranquil escape.
Discover Top Things To Do in Catalonia

The magical region of Catalonia is a journey full of journeys, encapsulating centuries-old traditions and remarkable secrets waiting to be explored. Discover top activities below or read more on our blog!
See what Catalonia has to offer by exploring activities in popular categories below!
Embark on a culinary adventure in Catalonia with food and wine tours. Explore the renowned Priorat wine region, where you can savour bold Garnacha and Cariñena wines amidst stunning vineyard landscapes. In the Penedès wine region, discover the secrets of Cava production while sampling this sparkling wine in traditional cellars. For a taste of coastal delights, head to Barceloneta, Barcelona's seafood paradise. Discover some of the finest gastronomy in the world in Catalonia and book food and wine tours with crypto on Travala.com.
Explore Food & Wine Tours in Catalonia | Book Now
Experience the rich cultural heritage of Catalonia with expertly guided tours. Art lovers can explore the surreal world of Salvador Dalí at the Dalí Theatre-Museum in Figueres, where his mind-bending creations come to life, or dive into the artistry of Pablo Picasso at the Museu Picasso in Barcelona, housing an extensive collection of his masterpieces. For a taste of Catalonia's historical depth, visiting the many UNESCO World Heritage Sites across the region is a must, such as the stunning Sagrada Família in Barcelona and the Archaeological Ensemble of Tarraco in Tarragona.
Explore Cultural Tours in Catalonia | Book Now
Discover the natural wonders of Catalonia with a range of outdoor activities. Along the rugged Costa Brava, indulge in thrilling water sports like snorkeling and windsurfing amidst crystal-clear Mediterranean waters. Embark on a journey through history and nature along The Cistercian Route, discovering ancient monasteries and picturesque landscapes. For those seeking pristine wilderness, Aigüestortes i Estany National Park offers endless hiking and wildlife-watching opportunities. Catalonia's diverse landscapes provide the perfect backdrop for an array of summer and winter outdoor adventures, ensuring an unforgettable escape for nature enthusiasts and thrill-seekers alike.
Explore Outdoor Activities in Catalonia | Book Now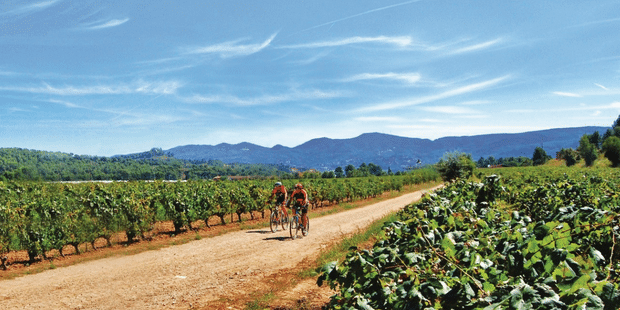 Catalonia is a paradise for sports enthusiasts, offering a plethora of opportunities for land and water sports. Explore the stunning landscapes of the Pyrenees Mountains on a thrilling mountain biking excursion, or opt for serene road cycling along the picturesque routes of the Costa Brava. Hikers will find their haven in the Montserrat Natural Park, where rugged trails lead to breathtaking views of the iconic Montserrat mountain. And beneath the Mediterranean waves, diving enthusiasts can discover vibrant marine life and submerged treasures in the crystal-clear waters of the Costa Daurada. Catalonia's diverse terrain and outdoor offerings make it an ideal destination for active travellers seeking riveting sporting experiences.
Explore Sports Activities in Catalonia | Book Now
Explore the beauty of Catalonia through ecotourism activities that embrace sustainability and nature. Discover the region's abundant natural parks, where you can immerse yourself in pristine landscapes and spot diverse wildlife, or see where the road takes you via Catalonia Greenways, a network of scenic cycling and hiking trails built from disused railway lines, perfect for eco-conscious adventurers. Don't miss the chance to indulge in eco-gastronomy, savouring locally sourced and organic Catalan cuisine that celebrates the region's rich flavours while supporting sustainable farming practices. Catalonia invites you to discover its eco-friendly treasures, fostering a deeper connection with the environment and its vibrant culture.
Explore Ecotourism Activities in Catalonia | Book Now