​​Catalonia: A Canvas of Culture
The artistic spirit thrives in Catalonia and has been an inspiration to some of the world's most revered artists, with icons such as Pablo Picasso, Salvador Dalí, Antoni Gaudí, Joan Miró, and Lluís Domènech i Montaner calling Catalonia home. Their masterpieces can be found throughout cities and in world-class museums, from the architectural wonders of Barcelona to the striking modernist and surrealist galleries in medieval towns and picturesque villages that dot the countryside.
The cultural significance of Catalonia's diverse history permeates the region, boasting over 30 UNESCO World Heritage sites, including the Tarragona Amphitheatre, Poblet Monastery, the Romanesque churches of the Vall de Boí, Mediterranean Arc Cave Paintings, and the architectural works of both Antoni Gaudí and Domènech i Montaner.
This is a land where each street corner, every village square, and countless hidden gems hold stories of the past and present. Whether you're an art aficionado, history enthusiast, or simply a traveller seeking immersive experiences, a journey through Catalonia offers travellers the opportunity to embark on an enriching cultural odyssey.
Read on to discover five handpicked cultural tours in Catalonia, all bookable with crypto on Travala.com.
Dalí Theatre-Museum
The Dalí Theatre-Museum is a mesmerising homage to the brilliant mind of surrealist artist Salvador Dalí, where visitors can explore a whimsical world of imagination in a building designed by the artist himself. Housing an unparalleled collection of his eccentric and thought-provoking works, the museum is a surreal journey into the depths of Dalí's creative genius and a must-visit destination for art lovers.
From US$108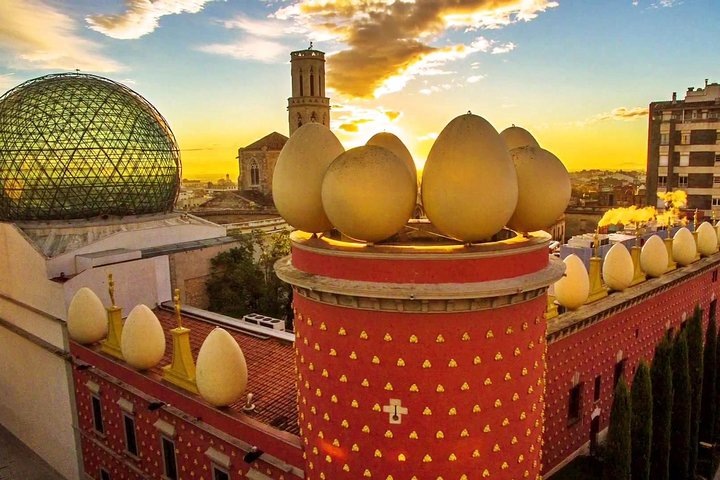 On this tour, you'll traverse the beautiful stretch of countryside from Barcelona to Girona. The city of Girona already existed before the Roman Empire and contains an abundance of history. Many traces from the Middle Ages can be found as you explore the Old Town, which made Girona a perfect filming location for Game of Thrones. You'll also visit the famous Cathedral of Girona and one of the best preserved medieval Jewish Quarters in the world. In Figueres—Dalí's hometown—you'll visit the Dalí Theatre-Museum and step inside the creative mind of a surrealist genius.
Archaeological Ensemble of Tarraco
The Archaeological Ensemble of Tarraco in Catalonia is a remarkable testament to the grandeur of the ancient Roman Empire, featuring well-preserved ruins that transport visitors back in time. This UNESCO World Heritage Site allows history enthusiasts to explore the remains of a Roman colony, complete with an amphitheatre, city walls, and a stunning aqueduct, providing a captivating glimpse into the architectural and cultural legacy of Tarragona.
From US$102
This small group tour combines the history of Tarragona with the laid back vibe of Sitges. In Tarragona, you'll take a deep dive into Roman history by exploring the Archaeological Ensemble of Tarraco, a collection of UNESCO World Heritage-listed sites. You'll stop at the Les Ferreres Aqueduct (built in the 1st century BC), the Tarragona Amphitheatre (built in the 2nd century AD), the Roman Forum, and the Roman Circus. In Sitges, enjoy getting lost amidst the whitewashed fisherman's houses as you explore groovy boutiques, find a quaint restaurant, and take in the Mediterranean coastline along one of the town's 17 beaches.
Museu Picasso
The Picasso Museum in Barcelona houses one of the most extensive collections of artworks by the artist. It offers a remarkable journey through the artist's evolution, showcasing his early works, Blue Period, and Cubist masterpieces, making it an absolute must-see for any art aficionado.
From US$38
Led by an expert art guide in English, this tour will shed light on the life's work of the painter and sculptor in considerable depth. Admire the 4,251 pieces that make up the permanent collection, including masterpieces like "Science and Charity", "Royan", and "Las Meninas". The explanation of the artist's different phases chronologically will elucidate his stylistic changes, which were often drastic. This activity includes tickets to enter the popular museum, allowing you to skip the queue with your guide.
Gaudí's Architectural Masterpieces
Antoni Gaudí is synonymous with architectural brilliance, with his unique blend of modernist and naturalist styles defining Catalonia's architectural landscape and offering visitors a profound appreciation of his visionary genius.
From US$42
This 4-hour bicycle tour takes you to all of Gaudí's UNESCO World Heritage-listed buildings in Barcelona, as well as must-see sights like Las Ramblas, Parc de la Ciutadella, Arc de Triomf and Plaça Reial, the Gothic Quarter's most iconic square. Starting with the mind-blowing La Sagrada Familia, you'll then pedal on to the equally impressive world-famous mansions on Passeig de Gracia. The Casa Vicens is next (Gaudí's first important work), followed by Casa Mila, also known as La Pedrera thanks to its snaking grey exterior, which was built without a single straight line. You'll have the opportunity to take a break at the local square in Passeig de Gracia, have a drink, and enjoy the bustling atmosphere before continuing on your exploration.
Montserrat Monastery
Montserrat is a mystical mountain range with a rich spiritual heritage, home to the revered Benedictine Monastery of Montserrat. Its breathtakingly serrated peaks and the spiritual ambiance attract pilgrims and nature enthusiasts alike, making it a sanctuary of natural beauty and cultural significance.
From US$97
This day tour combines a visit to this magical site with a wonderful food and wine experience. Ride a cogwheel train to the top of Montserrat mountain while admiring its spectacular views before visiting the monastery. You'll then enjoy some free time to sample some traditional foods made by Montserrat monks or farmers and even squeeze in a visit to the Museu de Montserrat. As part of the final leg, you'll discover Oller del Mas, a boutique winery that crafts award-winning ecological wines. Here, you'll taste top-quality wines and take a stroll by the vineyards to unearth how the wine is made in this breathtaking location.