Belmond Hotels, part of the globally renowned Belmond collection, is a distinguished brand that epitomises luxury hospitality and immersive travel experiences. With a rich heritage dating back to the early 20th century, Belmond has established itself as a paragon of elegance and refinement in the world of luxury travel. Offering an exceptional portfolio of hotels, trains, boats, safaris, and restaurants, Belmond experiences provide a distinct sense of place and a commitment to crafting first-class memories.
Whether it's a historic European palace, a lush Caribbean resort, a riverside retreat in Southeast Asia, or an African safari lodge, Belmond hotels consistently set the standard for excellence, enchanting guests with quality service and the promise of unforgettable journeys. From the lavish interiors and Michelin-starred dining to immersive cultural activities and spa experiences, Belmond properties offer a holistic approach to luxury travel, ensuring that every moment is an opportunity to savour the extraordinary.
Turn every dream of wanderlust into a reality and treat yourself to a luxury experience by booking a Belmond hotel on Travala.com today!
Explore Belmond Hotels
See our handpicked Belmond hotel recommendations available on Travala.com below:
📍 Koh Samui, Thailand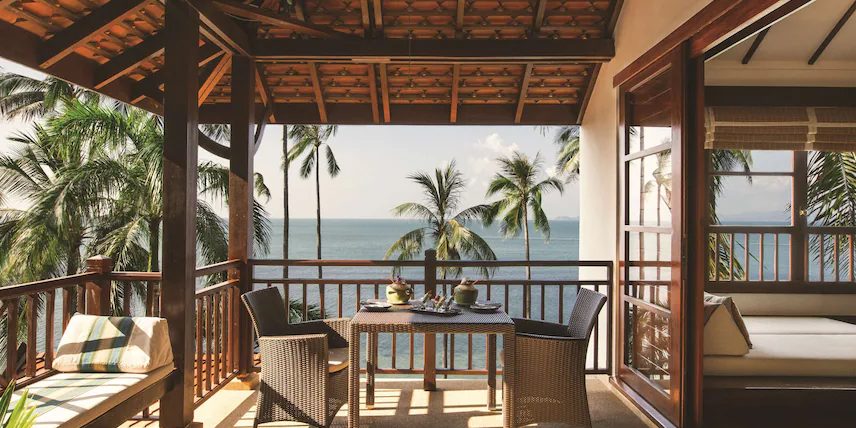 Seaside Serenity: Unwind in Island Luxury
Napasai, a Belmond Hotel, is a captivating oasis tucked away on the tranquil shores of Koh Samui, Thailand. This exclusive retreat offers a blend of traditional Thai charm and modern luxury, with private villas nestled amidst lush tropical gardens overlooking the azure Gulf of Siam. Guests can indulge in world-class spa treatments, savour exquisite Thai and international cuisine, and embark on adventures that explore the island's rich culture.
📍 London, United Kingdom
Indulge in Victorian Opulence & Heritage
Nestled in the heart of London's prestigious Chelsea neighbourhood, The Cadogan, A Belmond Hotel, stands as a timeless masterpiece of luxury and sophistication. This historic gem offers guests a captivating fusion of old-world charm and contemporary comforts, with elegantly appointed rooms and suites, an award-winning restaurant, and proximity to iconic attractions like the Royal Albert Hall and Harrods.
📍 Playa del Carmen, Mexico
Riviera Maya's Secluded Beach Paradise
Embrace the allure of Mexico's Riviera Maya at Maroma, A Belmond Hotel, where pristine beaches meet unparalleled luxury. Positioned along the stunning coastline, this tropical haven offers travellers a serene escape with luxurious private villas, a world-class spa, and gourmet dining experiences. Explore the nearby ancient Mayan ruins, unwind by the turquoise waters, or spend time in your traditionally styled room. At Maroma, every moment is an invitation to indulge in the enchanting beauty of the Riviera Maya.
📍 Bali, Indonesia
Balinese Bliss in Oceanfront Hideaway
On the pristine shores of Bali's Jimbaran Bay lies Jimbaran Puri, A Belmond Hotel. A tropical sanctuary where luxury meets authentic Balinese charm, guests can unwind in private thatched-roof cottages, dine on fresh seafood at the beachfront restaurant, and enjoy Balinese spa treatments amidst lush gardens. With its tranquil location and blend of cultural experiences, Jimbaran Puri beckons you to immerse yourself in the enchanting beauty and rich traditions of Bali.
📍 Venice, Italy
Venetian Grandeur: A Timeless Oasis
Set against the breathtaking backdrop of Venice's Grand Canal, Hotel Cipriani, A Belmond Hotel, embodies the epitome of Venetian elegance and timeless luxury. With its exclusive water-access entrance and lush gardens, you'll be transported to a world of opulence and tranquility. Immerse yourself in the rich history and romantic allure of Venice, all while enjoying world-class dining, a luxurious spa, and the iconic Cip's Club, boasting gorgeous views of the Venetian Lagoon.
📍 Santa Barbara, USA
An Enchanted Californian Coastal Retreat
Overlooking Santa Barbara, El Encanto, A Belmond Hotel, exudes the charm of a bygone era while offering contemporary luxury. Its picturesque bungalows and suites provide breathtaking views of the Pacific Ocean, creating an ideal backdrop for romantic getaways and serene retreats. With a world-class spa, gourmet dining, and a location that blends natural beauty with cultural richness, El Encanto invites you to savour the essence of the city's coastal elegance.
📍 Luang Prabang, Laos
Your Mountain Haven in the Clouds

Perched on a hilltop in the UNESCO World Heritage town of Luang Prabang, La Résidence Phou Vao, A Belmond Hotel, offers an ethereal escape amidst the lush landscapes of Laos. This intimate retreat invites guests to unwind in serene luxury, with spacious rooms, a tranquil spa, and a stunning infinity pool overlooking the Mekong Valley. Immerse yourself in the rich culture, explore nearby temples, and savour authentic Laotian cuisine, all while basking in breathtaking natural beauty.
📍 Cape Town, South Africa
Old-World Elegance & Scenic Beauty
Located at the foot of Table Mountain, Mount Nelson, A Belmond Hotel, is a historic Cape Town icon that marries timeless elegance with modern luxury. Expect opulent suites, lush gardens, and a legendary afternoon tea experience. With its prime location, this hotel offers you a gateway to Cape Town's vibrant culture, making it the perfect base for exploring the city's attractions, from the historic Company's Garden to the bustling V&A Waterfront.
📍 Rio de Janeiro, Brazil
Rio's Most Storied & Sophisticated Retreat
The iconic Copacabana Beach sprawls below Copacabana Palace, A Belmond Hotel, which stands as a symbol of glamour and sophistication. This legendary hotel offers travellers a chance to experience the allure of Rio with luxurious rooms, Michelin-starred dining, and a swimming pool that has hosted A-list celebrities and dignitaries for decades. With its prime beachfront location and proximity to Rio's cultural landmarks, Copacabana Palace is your quintessential destination for the ultimate blend of beachfront luxury and Brazilian charm.
📍 Cusco, Peru
Andean Luxury in Monastic Hideaway
A revered and historic gem, Monasterio, A Belmond Hotel, sits in the heart of Cusco, the gateway to Machu Picchu. This meticulously restored 16th-century monastery offers you a unique opportunity to immersively experience Cusco's rich heritage, with exquisite rooms adorned with original artwork and a serene courtyard that boasts a centuries-old cedar tree. Its central location provides easy access to the iconic nearby attractions, making Monasterio the perfect base for exploring the city's ancient wonders.