TRVL token holders will soon be able to book over 3,000,000 travel products in 230+ countries, boosting TRVL adoption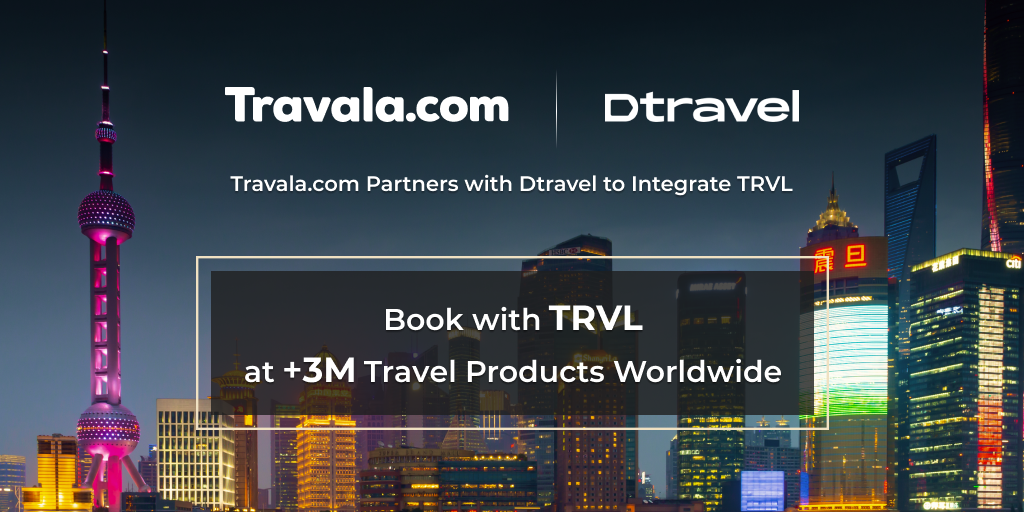 Travala.com, the world's leading cryptocurrency-friendly online travel agency, and Dtravel, a decentralized home sharing platform, today announced a strategic partnership to integrate Dtravel's TRVL token on the travel website's platform. 
The integration will enable TRVL token holders to book over 2.2 million hotels, 600+ airlines and 400,000+ activities in more than 230 countries. This utility propels TRVL's mission forward, expanding the token's use cases and capturing further value through new applications of the token's unique technology.
Through the partnership, holders of TRVL will be able to participate in a cheaper, fairer, and more inclusive travel economy alongside leading cryptocurrency assets like Bitcoin (BTC), Ethereum (ETH), and the AVA token. Additionally, Dtravel will be using Travala.com's corporate account services for the company's internal travel requirements. 
With savings of up to 40% available on Travala.com (when compared with other online travel agencies), a total of over 3,000,000 travel products will soon be at the fingertips of TRVL token holders worldwide, increasing the exposure of Dtravel's ecosystem to an ever-expanding user base. 
Cynthia Huang, Head of Growth at Dtravel, said: "Travala.com is the clear leader in the cryptocurrency travel space and we're extremely excited to partner with a company that has seen such amazing growth and paved the way for people to think about paying for travel with crypto. There are clear synergies between our communities and we look forward to offering our community even more benefits through this partnership."
Commenting on the partnership, Juan Otero, Travala.com CEO, said: "It's incredible to be working with another travel-focused project to simultaneously further cryptocurrency adoption and build the next generation of travel. The team behind Dtravel is exceptionally talented and experienced; with alumni from Airbnb, Expedia and other household names in both the travel and tech industries, the opportunity to learn from each other is second to none. This partnership will benefit both the Travala.com and Dtravel communities beyond just enabling TRVL as a payment option on Travala.com, so keep an eye on our blog over the next few months."
---
About Travala.com
Founded in 2017 and now backed by industry-giant Binance, Travala.com is the leading cryptocurrency-friendly travel booking service with 2,200,000+ properties, 400,000+ activities in 230 countries and 600 airlines globally. Travala.com is a champion of cryptocurrency adoption, accepting over 50 leading cryptocurrencies along with traditional payment methods. AVA, the native cryptocurrency of the platform, bolsters Travala.com's value proposition. The AVA token can be used for payments, receiving loyalty rewards, and obtaining discounts and bonuses, among several other use cases. In addition to unbeatable prices via its Best Price Guarantee, Smart users on Travala.com can also enjoy additional discounts and loyalty rewards for eligible bookings made on the platform.
For more information about Travala.com, visit: www.travala.com
For more information about AVA, visit: www.travala.com/ava 
About Dtravel
Dtravel is a decentralized, global home sharing community that facilitates seamless short-term accommodation discovery, bookings and payments, with significantly lower fees than other home sharing platforms. Conceived by former executives of Airbnb, Expedia and other global technology companies, Dtravel aims to empower its members — including hosts, guests and token holders — to participate in the growth and decision making of a new type of home sharing economy through community governance. 
Website | Medium | Twitter | Telegram | Telegram Announcements