Travala.com Monthly Report: October 2022
80% of All Bookings Paid in Crypto for the First Time, with Monthly Revenues in Excess of $5.3M

Below is our monthly report for October 2022
Total revenue for the month of October was $5,387,429, which includes accommodation bookings, flight bookings, activity bookings and concierge bookings.
Total number of room nights booked was

9,881

.

Total number of flights booked was

2,974

.

6,470

Smart members as of 1st November 2022 with a total of 8,840,150 AVA locked, representing 16.32% of the circulating supply.

Booking numbers across our platforms by percentage:

Desktop: 58%

Mobile App: 32%

Mobile Web: 7%

Binance Marketplace: 3%

The number of monthly active users (MAU) in October exceeded

68,000

.

80% of all bookings in October were paid with cryptocurrencies, with USDT, Binance Pay and BUSD the top payment options.
Top 7 visitors by country:
United States

India

Turkey

Netherlands

Germany

Argentina

Australia
Top 7 countries booked:
United Arab Emirates

Thailand

Spain

Turkey

United States

Portugal

United Kingdom
Room Night Metrics

Flight Metrics


Activity Metrics


Payment Metrics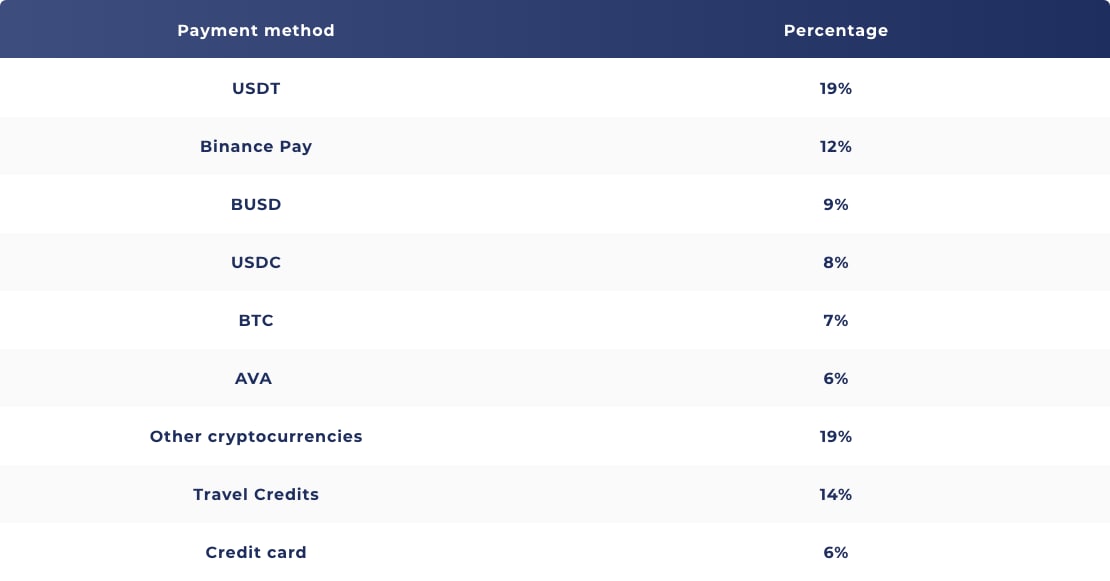 ---
Smart Program Update – Get up to 13% savings on travel bookings
The Smart Program offers direct discounts on listed Travala.com prices, loyalty rewards after you have completed your booking, AVA payment discounts, and many other benefits. You can find Smart offers on millions of travel products worldwide. More details can be found HERE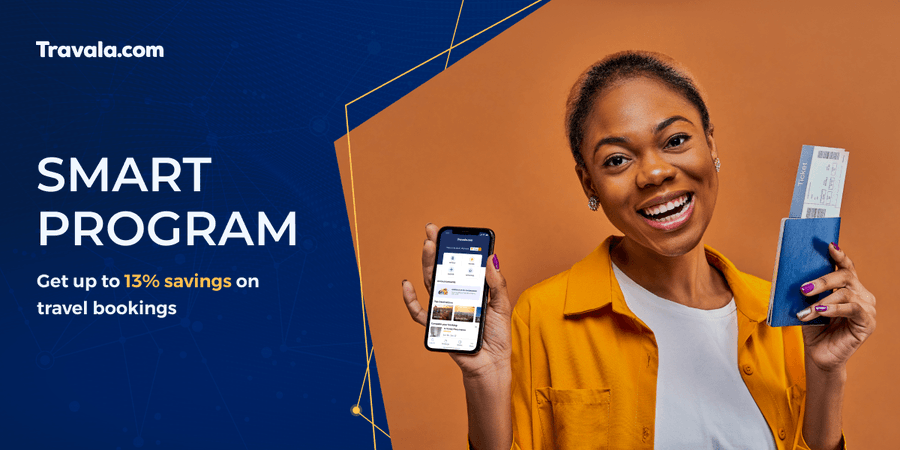 As of 1st November 2022, there are 6,470 Smart members in total. Smart level details are as follows:
Smart Diamond –  698

Smart Platinum – 1,985

Smart Gold  – 133

Smart Silver – 455

Smart Bronze – 1,331

Smart Steel – 920

Smart Basic – 948
A total of 8,485,150 AVA is locked within the Smart Program, representing 16.32% of the circulating supply, which is now 51,982,507.23 AVA.
---
November Destination of the Month: Istanbul
Brimming with rich and diverse history thanks to its geographical location, with part of the city lying in Europe and the other in Asia, Istanbul invites you to experience Western and Middle Eastern culture in one incredible place.
Save 5% on all Istanbul hotels and activities booked on Travala.com this month by using the code "ISTANBULNOV" at checkout.
Read more HERE
---
Travel Tiger Club Update
Ambassador Bonus Marketing Tasks
The latest round of Ambassador Bonus Marketing Tasks for Smart Diamond members wrapped up on 17th October. Thanks to everyone who took part!
The Ambassador Bonus can now be claimed until 9th November in the Tiger NFT section of your Travala.com account.
New Smart Diamond Features
In October, we introduced a new perk for all Smart Diamond members: airport lounge access to 1,300+ lounges globally via our partners Priority Pass. Members receive a Priority Pass membership and 4 free lounge passes per year, regardless of airline or class of travel. Learn more.
If you're a Smart Diamond member and haven't yet registered for a Priority Pass account, enter the unique invitation code sent to your Travala.com email at the following link: https://www.prioritypass.com/travala
---
Community Update
October saw our creative Ambassador community sharing photos and videos of their travels as part of the Marketing Tasks, and of course pictures of everyone's unique Travel Tigers!
Here's what else has been happening on the community side:
Winners of the Ambassador Bonus Marketing Tasks will soon receive their merch prize packs.

International language communities will be launched soon, with a focus on Asia.

We're publishing fun video content on

TikTok

and soon on Youtube Shorts.

We're currently reviewing and planning ways for more engagement with the Smart Program. If you have any ideas on how we can make the Smart Program more engaging,

share your thoughts here!
Read more in the recent Community Update HERE
---
Marketing & Advertising Update
A significant month on the marketing front has seen the recent launch of a year-long global campaign with Binance to promote hotel bookings with the Binance Card. We're also continuing to focus on social ads and video content.
Binance Card Campaign:

We've partnered with Binance to offer first-time Travala.com users a 10% cashback in AVA when booking with the Binance Card. Check the partnership section below for more details.

Global Campaign with Major Travel Brand:

We can't say who just yet, but we'll be launching a global marketing campaign with a prestigious travel brand very soon. Stay tuned!

Facebook Ads

: We're continuing to run a variety of new Facebook ads to reach new users.

Video Content:

We're promoting Travala.com via new channels with engaging travel and crypto video content.
---
Product Update
Booking features going live soon:
Flights search filter improvements

Updated pricing display for return flights search

Improved checkout experience for crypto payments
Engagement and customer benefits:
Smart Diamond members now have access to over 1,300 airport lounges globally [Live!]
Get ready to enjoy an improved crypto wallet experience, with increased trust and greater network coverage [Live soon]
User growth:
Special incentives for new user sign-ups [Live soon]
Exclusive discount on first hotel booking for specific new customers [Live soon]
---
Community Pool Update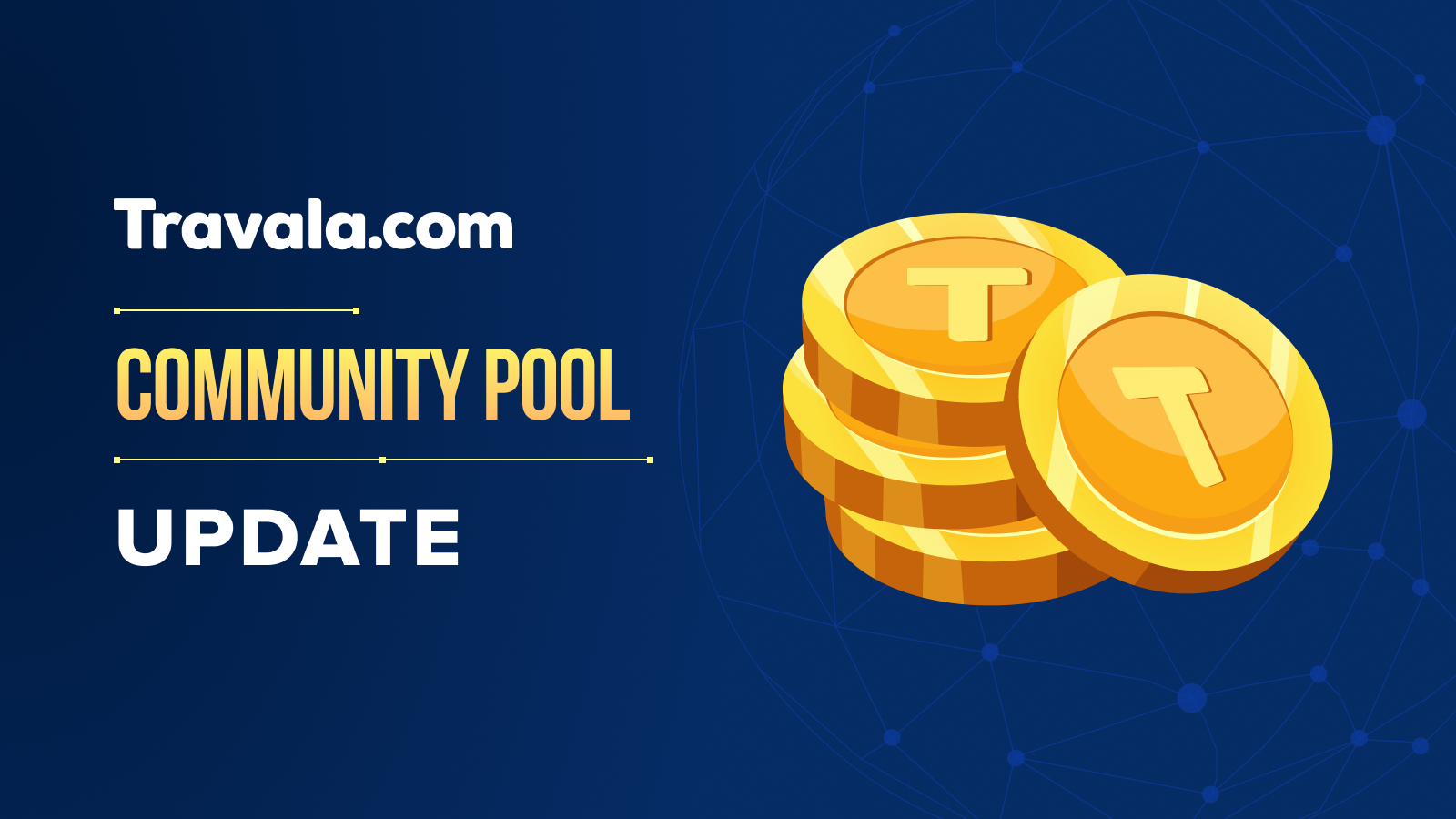 Each month, 50% of the royalties from the secondary sale of Travel Tiger NFTs are contributed to the Community Pool.
$4,420 worth of AVA has been added to the Community Pool, which is equal to 5,823 AVA and 50% of secondary sale royalties for October 2022.
Transaction Hash:
https://explorer.bnbchain.org/tx/6A82BE6D6C80993F856FF3C0722E72E7A43F3B623C25871756BC230316775E7C 
The Community Pool now has a total of 1,279,620 AVA:
https://explorer.binance.org/address/bnb1v6fhmhppe7073z8hsshxkdn6pc5jwp82a752xw 
---
Partnerships
Get 10% Off Your First Hotel Booking with Binance Card
We've partnered with Binance to offer first-time Travala.com users in Europe a 10% giveback on their first hotel booking when paying with the Binance Card.
Don't have a Binance Card? Sign up here
Terms and exclusions apply. Learn more
NEW: USDD Payments Now Live on Travala.com 
USDD token holders can now book over 3,000,000 travel products worldwide! Choose from over 2,200,000 hotels, 600+ airlines and 400,000+ activities on Travala.com today.
---
Upcoming Events
Istanbul Blockchain Week
Istanbul Blockchain Week (IBW) is one of the most anticipated blockchain events of the year, and it's coming to the Hilton Bomonti Hotel and to the ESA Espor Arena in Istanbul from 14–17 November 2022. This week-long event will celebrate Web3 culture and showcase the latest developments in the industry. You can expect a truly immersive futuristic experience, with events including IstanBlock, IBW NFT Day, and the W3E Championships Tournament. Don't miss out!
Book flights and accommodation
---
About Travala.com
Founded in 2017 and now backed by industry giant Binance, Travala.com is the leading cryptocurrency-friendly travel booking service with 2,200,000+ properties in 230 countries, 400,000+ activities, and 600+ airlines globally. Travala.com is a champion of cryptocurrency adoption, accepting over 90 leading cryptocurrencies alongside traditional payment methods. In addition to unbeatable prices via its Best Price Guarantee, Smart members on Travala.com can also enjoy additional discounts and loyalty rewards for eligible bookings made on the platform. For more information about Travala.com, visit: www.travala.com.
Join the Community