Travala.com Monthly Report: May 2021
4894% Year-on-Year Growth with Monthly Revenue in Excess of US $3.4M
5426 Room nights booked and 960 Flight bookings
Below is our monthly report for May 2021:
Total revenue for the month of May was $3,404,245 which includes accommodation bookings, flight bookings, activity bookings and integration fees. This represents a 4,894% year-on-year growth compared to May 2020.
The total number of room nights booked was 5,426, up over 27% compared to April 2021.
The total number of flights booked was 940, up over 37% compared to April 2021.
4,894% year-on-year revenue growth compared to April 2020.
17% of all bookings in May were paid in the native AVA token, making it the most preferred crypto payment, followed by Bitcoin and Binance Pay.
A new record number of Smart members with 5,899 has also been reached as of 1st June 2021.
A total of 9,314,000 AVA are locked representing 18.74% of the circulating supply.
Booking numbers across our platforms by percentage were – Desktop 53%, Mobile Apps 31%, Mobile Web 11%, Binance Marketplace 5%
The number of monthly active users (MAU) in May exceeded 183,000.
72% of all bookings in May were paid with cryptocurrencies.
Top 7 visitors by country were;
United States

Turkey
Mexico

Netherlands

India

Germany

United Kingdom
Top 7 countries booked were;
United States

Spain

United Arab Emirates

Australia 

France

Italy

United Kingdom
Travala.com room night metrics;
Travala.com flight metrics;
Travala.com activity metrics;
---
Smart Program Update – May 2021
Get up to 10% Savings on Travel Bookings and 8.04% APY Bonuses on your locked AVA with our Smart Bonus Rewards.
Smart Program offers up to 5% discount off the listed prices together with up to 5% loyalty reward after you have completed your stay. It works on holding a tiered amount of AVA in your Travala.com wallet. When activated it applies to hotel and accommodation bookings that have the Smart Icon available.
You will also earn bonus rewards of 8.04% APY of your locked amount of AVA paid on a monthly basis of 0.67%. Read more HERE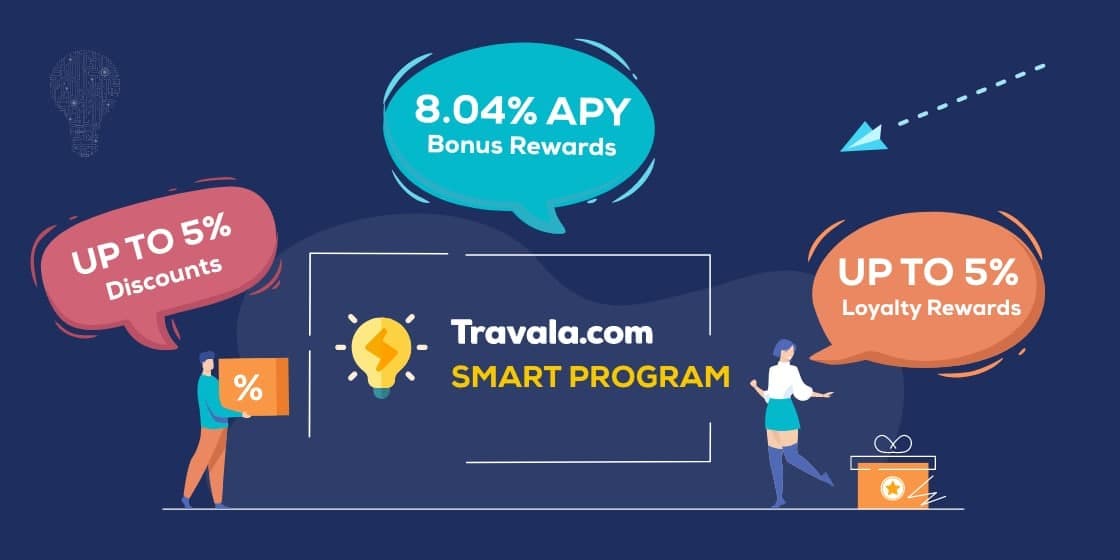 As of 1st June 2021, we have 5,899 SMART members in total. Smart level details are as follows:
Level 5 – 2,935
Level 4 – 190
Level 3 – 540
Level 2 – 1,452
Level 1 – 782
A total of 9,314,000 AVA are locked within our SMART program which represents 18.74% of the circulating supply which is now 49,695,253 AVA.
---
Search, book and pay for millions of hotels and accommodations directly from the Binance Marketplace
---
The latest version of the Travala.com Mobile App 1.4.2 was released and now available for use
You can see the list of updates below:
Activities booking
New sort options
Bed options
Bug fixes and improvements
Download on the Appstore or Get it on Google Play
---
Travala.com and Zomato Partner to Give Travelers More Freedom and Discounts
Smart program subscribers receive 12-month Zomato Pro subscription for use in Portugal; Zomato Pro members receive 12-month access to travel discounts and loyalty rewards on Travala.com. Read more HERE
---
Travala.com Development Update
Book over 410,000 activities, tours and experiences due to our partnership with Viator a Tripadvisor company using;
✅ Binance Pay
✅ Travel Credits
✅ Travala Wallet (AVA BNB BUSD)
✅ Over 40 cryptocurrencies
✅ Credit or Debit Card
---
AeroJet Me and Travala.com Join Forces Taking Luxury Travel to New Horizons
A leading international private jet rental company- AeroJet has become a supplier to the worlds largest crypto friendly OTA Travala.com. Read more HERE
---
Korean has landed on Travala.com, g
iving more people access to our AVA 
powered smart program and crypto 
travel bookings
---
Travala.com Partners with XDC Network (XinFin)
XDC token holders will soon be able to book over 3,000,000 travel products in 230+ countries, boosting XDC adoption. Read more HERE
---
New exchange listing for AVA on Bitbns
---
About Travala.com
Founded in 2017, Travala.com is the leading cryptocurrency-friendly travel booking service with 3,000,000 travel products worldwide, including stays, flights, and activities. Backed by industry-giant Binance, Travala.com is a champion of cryptocurrency adoption, accepting over 30 leading cryptocurrencies in addition to traditional payment methods. The Travala.com value proposition is bolstered by AVA. As the native cryptocurrency of the platform, AVA can be used for payments, receiving loyalty rewards, discounts and bonuses, among several other use cases. In addition to unbeatable prices via its Best Price Guarantee, Smart users on Travala.com can also enjoy additional discounts and loyalty rewards for eligible bookings made on the platform.
For more information about Travala.com, visit: www.travala.com.
For more information about AVA, visit: www.travala.com/ava
---
Travala Links