A globally renowned luxury hotel brand that redefines the art of hospitality and wellness, Six Senses Hotels offers a considered collection of exceptional resorts located in some of the world's most captivating destinations. Part of the IHG Hotels & Resorts group, Six Senses provides transformative travel experiences like no other. From secluded island paradises to majestic mountain getaways, each Six Senses property embraces its unique surroundings to seamlessly blend natural beauty, sustainable practices, and immersive cultural experiences.
At the heart of Six Senses' philosophy is a commitment to sustainability and holistic wellbeing. With a deep respect for the environment, the brand prioritises responsible practices, from preserving local ecosystems to implementing innovative initiatives that minimise its carbon footprint. Beyond physical sustainability, Six Senses also places a strong emphasis on guests' wellbeing, providing holistic wellness programs, rejuvenating spa treatments, and organic, locally sourced cuisine.
Discover the art of luxury and wellness in nature's embrace and experience true relaxation with Six Senses Hotels.
Explore Six Senses Hotels
Check out our handpicked Six Senses Hotels recommendations available on Travala.com below:
📍 Koh Samui, Thailand
Experience Pure Relaxation in a Tropical Haven of Luxury
Discover an enchanting paradise at Six Senses Samui, where luxury meets tranquility on the pristine shores of Koh Samui. Immerse yourself in the breathtaking views of the Gulf of Thailand from your private villa nestled among lush tropical gardens. Indulge in world-class wellness experiences, exquisite dining options, and impeccable service, all while basking in the serenity of the gorgeous surroundings.
📍 Milas, Turkey
Idyllic Retreat on Mesmerising Mediterranean Coast
Escape to the captivating beauty of Six Senses Kaplankaya, a luxurious coastal sanctuary situated along Turkey's mesmerising Mediterranean coast. Embrace holistic wellness with the resort's world-class spa, taste delectable culinary delights, and immerse yourself in the breathtaking views of the Aegean Sea. With its secluded location and unparalleled amenities, Six Senses Kaplankaya offers an unforgettable retreat where quietude and opulence harmoniously intertwine.
📍 Bali, Indonesia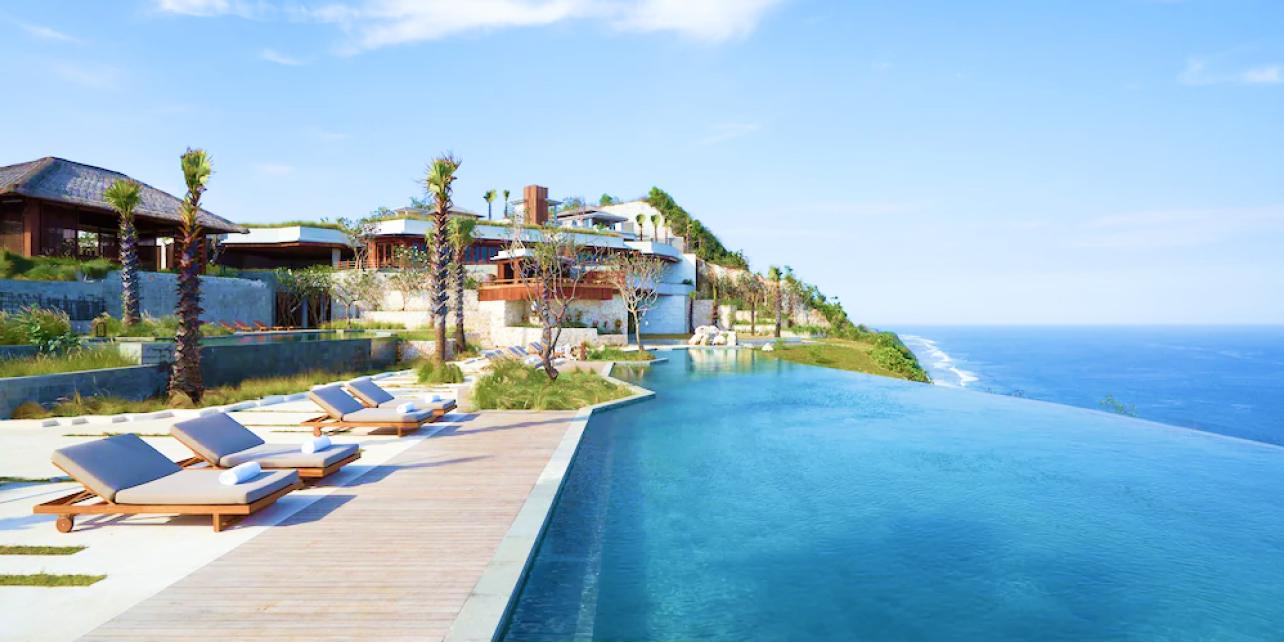 Unwind in Paradise Overlooking Breathtaking Cliffs
Experience the epitome of coastal elegance at Six Senses Uluwatu, a luxurious haven perched on Bali's majestic cliffs. Take in unparalleled ocean views, savour delectable cuisine inspired by local flavours, and immerse yourself in rejuvenating experiences. The perfect location and world-class amenities of Six Senses Uluwatu make for a remarkable escape embedded in nature.
📍 Con Son Island, Vietnam
A Pristine Paradise on Untouched Tropical Island
Six Senses Con Dao is situated on the pristine shores of Con Son Island off the coast of Vietnam, the largest (and only inhabited) island of the Con Dao archipelago. The resort harnesses the island's unspoiled nature to blend luxurious accommodations with experiences that improve wellbeing and stimulate the senses. With its idyllic positioning, impeccable service, and commitment to sustainability, Six Senses Con Dao offers a truly unforgettable experience where relaxation and natural wonders converge.
📍 Ibiza, Spain
Embrace the Vibrant Energy of Ibiza's Culture
The lively spirit of Ibiza comes alive at Six Senses Ibiza, a luxurious coastal retreat that embodies the essence of the island's energy and beauty. Immerse yourself in stylish accommodations, savour innovative farm-to-table cuisine, and align your mind and body with holistic wellness offerings. With its stunning location, Six Senses Ibiza offers a perfect blend of laid-back luxury, world-class amenities, and a captivating atmosphere that captures the essence of this iconic destination.
📍 Zighy Bay, Oman
Discover Opulent Oman in a Classically Crafted Villa
Embark on an extraordinary journey at Six Senses Zighy Bay, a luxurious hideaway with a rich history nestled amidst Oman's breathtaking Musandam Peninsula. Experience the allure of this picturesque destination through traditional Omani architecture, private villa accommodations, and a range of unique activities like mountain hiking and treks through local villages. Surrounded by rugged mountains and the azure waters of the Gulf of Oman, Six Senses Zighy Bay provides a perfect blend of tranquility, cultural immersion, and awe-inspiring natural beauty.
📍 Lamego, Portugal
An Unforgettable Adventure to the Home of Port Wine
Journey through time at the luxurious Six Senses Douro Valley, a resort steeped in history amidst the scenic landscapes of Portugal's Douro Valley. Housed in a renovated 19th-century manor, this exquisite hotel offers guests the opportunity to indulge in award-winning wines from the region, explore vineyards and wineries, and unwind with world-class spa treatments. Surrounded by terraced vineyards and the meandering Douro River, Six Senses Douro Valley offers an enchantingly unique taste of Portugal.
📍 Chengdu, China
Find Zen Amidst the Magnificent Qing Cheng Mountains
Immerse yourself in the tranquility of Six Senses Qing Cheng Mountain, a haven of relaxation nestled amidst the mystical beauty of China's revered Qing Cheng Mountains. This extraordinary hotel showcases a seamless combination of contemporary design and traditional Chinese influences, providing guests with an enchanting retreat surrounded by lush forests, ancient temples, and sacred panda reserves. Indulge in luxurious accommodations and embark on cultural excursions that uncover the rich history and natural wonders of this remarkable destination.
📍 Félicité Island, Seychelles
Blissful Seclusion in the Heart of Nature
Experience pure paradise at Six Senses Zil Pasyon, an exclusive retreat tucked away on the stunning private island of Félicité in the Seychelles. Boasting luxurious villas with private pools and breathtaking ocean views, this exquisite hotel offers an array of unique experiences, from snorkeling in crystal-clear waters to exploring nearby UNESCO World Heritage Sites like Vallée de Mai. With its commitment to sustainability and exceptional service, Six Senses Zil Pasyon is the ultimate destination for discerning travellers seeking seclusion, natural beauty, and unparalleled luxury.
📍 Ninh Hoa, Vietnam
Rejuvenate Your Senses at this Hidden Gem
On the secluded shores of Vietnam's Ninh Van Bay is where you'll find this haven of tranquility and natural beauty. Six Senses Ninh Van Bay offers guests private villas hidden away amongst lush tropical foliage, sustainable practices, and exceptional personalised service. Enjoy a wide range of water sports and outdoor activities, and take a trip to nearby Nha Trang to experience the city's rich cultural heritage.