A global hospitality powerhouse known for its exceptional portfolio of hotel brands catering to every type of traveler, Accor Hotels is the latest accommodation provider featured in our Hotel Spotlight series. With a rich history spanning over five decades, Accor Hotels has established itself as an industry leader, offering unparalleled experiences and impeccable service across 5,300 locations in over 110 countries.
Accor Hotels boasts an extensive collection of brands, each with its own distinct personality and unique offerings. From the luxurious elegance of Raffles and Fairmont to the contemporary style of Novotel and ibis, there's an attractive option for every budget. Whether you're seeking a romantic getaway, business trip, or family vacation, Accor Hotels' commitment to excellence, attention to detail, and unwavering dedication to customer satisfaction ensures a memorable stay.
With properties ranging from iconic landmarks to hidden gems, the widespread portfolio of Accor Hotels promises to elevate your travel experience and create memories that will last a lifetime.
Explore Accor Hotels
Check out our handpicked Accor Hotels recommendations available on Travala.com below!
Unbridled Luxury in Dubai's Architectural Gem
Inspired by the legendary Raffles Hotel in Singapore, this iconic property offers opulent accommodations, impeccable service, and a host of world-class amenities. From its stunning architecture to its refined dining options and indulgent spa, Raffles Dubai sets the stage for a memorable stay, where guests can immerse themselves in the ultimate blend of Arabian charm and contemporary elegance.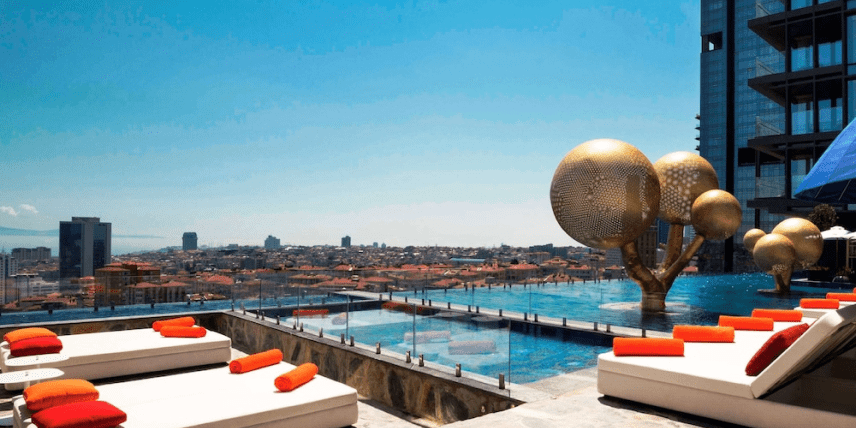 The Pinnacle of Turkish Elegance and Grandeur
Experience the epitome of luxury at the Fairmont Quasar Istanbul, a prestigious property nestled in Istanbul's vibrant business district. Boasting impeccable design, lavish rooms, and a wealth of amenities including a spa, fitness centre, and exquisite dining options, this five-star property offers an unrivalled experience for discerning travellers. With its prime location and breathtaking views of the Bosphorus, the Fairmont Quasar Istanbul is the ideal choice for those seeking sophistication in the heart of this captivating city.
Live Like a Star at Award-winning Beachfront Escape
The Faena Hotel Miami Beach is a true masterpiece of glamour nestled along the pristine shores of Miami. With its iconic red-and-gold architecture and opulent interiors, this luxurious hotel offers a sensory journey like no other. From the world-class dining options to the stunning oceanfront pool and exclusive spa, the Faena Hotel Miami Beach is certain to provide an unforgettable escape where luxury, culture, and breathtaking beauty converge.
Absolute Oceanfront Stay in Opulent Coastal Haven
The pinnacle of Caribbean magnificence, the Fairmont Royal Pavilion is a tropical oasis situated on the idyllic island of Barbados. This exclusive beachfront retreat offers unparalleled elegance, stunning ocean views, and a tranquil atmosphere. With beautifully appointed accommodations, exquisite dining options, and first-class service, the Fairmont Royal Pavilion invites guests to unwind, rejuvenate, and create lifelong memories in paradise.
Upscale Retreat with Panoramic Views in Lively San Fran
Step into a world of timeless elegance and sophistication at the iconic Fairmont San Francisco. Perched atop Nob Hill, this legendary hotel offers breathtaking panoramic views of the city skyline and the Bay Area. With its impeccable service, luxurious accommodations, and a rich history spanning over a century, the Fairmont San Francisco is a landmark destination that embodies the essence of San Francisco's charm and grandeur.
A Masterclass in Style, Sophistication & Charm
Housed in a historic post office building, this five-star property seamlessly blends the classic elegance of a bygone era with modern design. Boasting stylish accommodations, Michelin-starred dining options, and a tranquil spa, the Sofitel Munich Bayerpost offers a refined sanctuary for travellers seeking sophistication and comfort in the bustling city of Munich.
Uncover Vienna's Rich Artistry, History & Culture
Embark on a journey into avant garde at the iconic SO/ Vienna hotel, a masterpiece of design and creativity. Located in the heart of the city, this five-star hotel boasts a fusion of contemporary art, luxurious accommodations, and breathtaking views of Vienna's skyline. With its vibrant atmosphere, innovative culinary experiences, and a rooftop bar that offers panoramic vistas, those seeking a truly unique escape in the Austrian capital will be hard-pressed to find a better option than SO/ Vienna.
Tranquility & Luxury Along the Coastline
Nestled in the lush embrace of the Riviera Maya, the Fairmont Mayakoba invites guests to discover a world of luxury and natural beauty. This captivating resort offers a harmonious blend of elegant accommodations, pristine beaches, and enchanting jungle surroundings. With contemporary amenities, an award-winning spa, and breathtaking lagoon views, Fairmont Mayakoba is the perfect destination for those seeking a serene and indulgent retreat on the Mexican coast.
Contemporary Boutique Retreat in Stunning Rennes
Immerse yourself in the charm of the Balthazar Hotel & Spa Rennes MGallery by Sofitel, an enchanting escape in the heart of Rennes, France. This boutique hotel combines modern elegance with historical elements, offering guests a unique and luxurious experience. From its beautifully designed rooms and suites to its indulgent spa and gourmet dining options, this accommodation is the perfect haven for travellers seeking refined comfort in a gorgeous historical city.
Exceptional Hospitality in Exotic Paradise
If the ultimate tropical paradise experience is what you're after, then look no further than the SO/ Sofitel Mauritius. This exquisite hotel showcases a harmonious fusion of modern design and authentic island charm, providing a truly immersive escape from everyday life. With its stunning ocean views, private beach, and innovative culinary experiences, SO/ Sofitel Mauritius promises a relaxing and rejuvenating stay on the Indian Ocean.