Dubai, the glittering jewel of the United Arab Emirates, is a city where modernity meets tradition in a breathtaking collision of architectural wonders and rich cultural heritage. Marvel at the iconic Burj Khalifa—the world's tallest building—partake in some retail therapy at the Dubai Mall, and explore the Al Fahidi Historic District, with its narrow lanes and traditional wind-tower architecture.
Nearby, the Dubai Museum offers a fascinating journey through Dubai's evolution from a humble fishing village to a global metropolis. Beyond the city's modern skyline and historic districts, Dubai offers unique experiences like dune bashing in the Dubai Desert Conservation Reserve, where the golden sands stretch as far as the eye can see, and camel trekking, allowing visitors to connect with the region's nomadic heritage.
Whether it's shopping for gold and spices in the bustling souks, savouring diverse cuisines in world-class restaurants, or simply relaxing on pristine beaches, Dubai offers an unparalleled mix of attractions that make it a must-visit destination.
Explore Hotels in Dubai
Looking for accommodation in Dubai? Check out our hotel recommendations available on Travala.com below!
Discover Dubai's Richness at Renowned Raffles
Nestled in the heart of the capital, Raffles Dubai offers an exquisite blend of modern luxury and cultural immersion. With its stunning views of the city's iconic landmarks, lavish suites, and impeccable service, it's a true oasis for discerning travellers. This hotel not only provides a haven of elegance but also grants convenient access to Dubai's cultural treasures, making it an ideal choice for those seeking both opulence and exploration.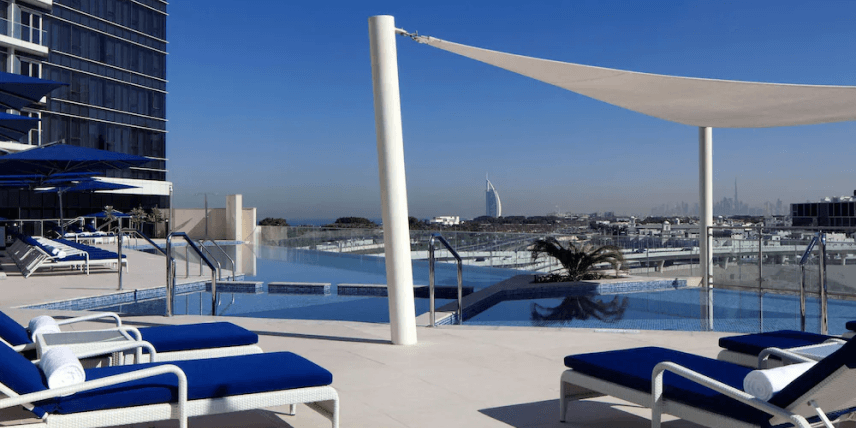 Stay in Style Surrounded by Spectacular Views
Discover Avani + Palm View Dubai Hotel & Suites, where beachfront elegance meets urban sophistication. Located at the iconic Palm Jumeirah, this luxurious retreat offers breathtaking views, modern comforts, and easy access to Dubai's world-famous attractions. With its fusion of relaxation and city excitement, it's a perfect destination for anyone wanting to experience the best of both worlds in Dubai.
Indulge in Elegant Cultural Opulence at the Taj
Elevate your Dubai experience at Taj Dubai, a hotel that boasts rich Indian heritage and hospitality. Situated at the heart of the city, this opulent hotel offers stunning skyline views, exquisite dining, and a perfect fusion of tradition and modernity. Immerse yourself in Dubai's vibrant tapestry while indulging in the unmatched comfort and service that is synonymous with a stay at the Taj Dubai.
Explore Dubai's History from Your Luxury Oasis
Experience the allure of Dubai's history at Oaks Ibn Battuta Gate. Situated within the iconic Ibn Battuta Mall, you'll be able to enjoy direct access to one of Dubai's renowned shopping destinations and proximity to historic sites. This captivating retreat echoes the architecture and traditions of ancient cultures, providing a unique stay for travellers seeking to immerse themselves in culture with a touch of retail therapy at hand.
Dubai's Icons & Attractions on Your Doorstep
Experience Dubai's waterfront luxury at Nuran Marina Serviced Residences, where contemporary comfort meets the charm of a bustling marina. These well-appointed residences offer the perfect home away from home, featuring stunning views of the Dubai skyline and easy access to the city's cultural and entertainment hotspots. Whether you're seeking relaxation or adventure, Nuran Marina provides a serene oasis in the heart of one of Dubai's most vibrant districts.
Tradition Meets Modern Comforts at Golden Sands
Set against the backdrop of Dubai's historic creek, Golden Sands-Dubai Creek offers a harmonious blend of heritage and modernity. With comfortable accommodations, personalised services, and easy access to Dubai's iconic landmarks, Golden Sands-Dubai Creek has everything you need to experience the essence of Dubai.
Discover Top Things To Do in Dubai

Explore Dubai's vast wealth of attractions from soaring skyscrapers to bustling souks, pristine beaches, and an array of world-class dining and entertainment options.
See what Dubai has to offer by exploring activities in popular categories below!
Explore the captivating city of Dubai with hundreds of sightseeing tours. From the modern marvel of Palm Jumeirah to the enchanting Dubai Marina and historic Al Fahidi District, Dubai tours encompass many of the city's iconic manmade and natural landmarks.
Explore Sightseeing Tours in Dubai
Discover the opulence of the Burj Al Arab, the heritage of the Dubai Museum, and the sensory delights of the Spice and Gold Souks. Don't miss the cultural richness of Jumeirah Mosque and the futuristic charm of the Dubai Frame as you immerse yourself in the city's diverse offerings.
Explore Attractions & Museums in Dubai
Embark on awe-inspiring architecture tours in Dubai, where modern marvels and cultural landmarks intertwine. Admire the iconic Burj Khalifa, the world's tallest building, and wander through the stunning Palm Jumeirah, an engineering masterpiece. Explore the architectural fusion of tradition and innovation at the Al Fahidi Historic District and marvel at the futuristic design of the Dubai Opera, all while experiencing the city's remarkable skyline.
Explore Architecture Tours in Dubai
Experience adrenaline-pumping motor sports in Dubai with guided adventures. Race across the desert dunes in a thrilling off-road excursion in the Dubai Desert Conservation Reserve, or enjoy a high-speed experience at the Dubai Autodrome. Whether it's dune bashing, quad biking, or go-karting at the Kartdrome, Dubai offers a plethora of options for motorsport enthusiasts seeking an unforgettable thrill.